Super Brain Coffee | Dark Roast | 6 Nootropics
Black Friday Sale
Use GEC20 To Get Extra 20% OFF
Applicable on a one-time purchase*
SUPER BRAIN COFFEE | DARK ROAST | 6 NOOTROPICS
20 individually packed sticks (servings) of instant espresso coffee powder per bag.
A GOURMET ESPRESSO BLEND: Satisfy your tastebuds with our black espresso with our proprietary Super Brain Blend™ with turmeric, cinnamon, lion's mane, chaga mushrooms, L-theanine, and black pepper.
SWEET SLOW DRIP COFFEE TASTE: Instant Coffee is a 100% premium blend of fresh microground robusta and arabica coffee, sourced from the world's top growing regions and carefully roasted and perfectly freeze-dried to preserve it at its peak. With each serving, you can savor the rich taste of dark microground roast black coffee with a hint of cinnamon.
VERSATILE TO YOUR STYLE: Enjoy a black cup of coffee by adding 6 fl oz or enjoy as a shot of espresso by adding 3 fl oz. How do you want to get activated?
100% SATISFACTION GUARANTEED: We've made this gourmet blend for your tasty cup of coffee, so if you're unsatisfied for any reason, contact us for a refund.
SUGAR-FREE | NON-GMO | GLUTEN-FREE | PALEO | VEGAN

Super Brain Coffee | Dark Roast | 6 Nootropics
Your daily cup of bliss

Improved
Creativity & Focus

Clean
Energy

No Anxiety
Or Jitters

No
Crash

Great
Tasting
Improved
Sleep
INGREDIENTS
We only source coffee made of specialty beans from the world's best growing regions. Our instant blend of espresso coffee has a richer, more complex flavor. We roast the beans so that they fully develop to express their truest aroma, distinctive sweetness and bursting flavor.
50 mg of caffeine per serving
Turmeric spice may be the most beneficial medicinal plant in the entire world. It contains bioactive compounds with powerful medicinal, antioxidant, antiviral, anti-fungal and anti-inflammatory properties. *Black pepper enhances turmeric absorption.
Cinnamon has been prized for its medicinal properties since ancient Egypt. Not only does it help make coffee taste delicious with its sweet, warming taste, but it's loaded with antioxidants, anti-inflammatory, and antibacterial properties.
Lion's Mane is a natural nootropic super mushroom. Monks have used it to help their meditation practice for thousands of years to help support their concentration, energize their minds, enhance focus, inspire creativity, and help support daily immune functions.
Chaga mushrooms have been used for centuries in traditional medicine to help balance the mind and body. Recognized for their anti-aging, antimicrobial properties, people have also used them to help support immune function, fight inflammation, and aid in proper digestion.
L-Theanine is a naturally occurring amino acid found in tea. Studies have found it to increase alpha-waves in the brain, which are linked to creativity. It's also known to induce calming effects, without causing drowsiness. *L-Theanine is even more effective when taken with caffeine.
Black Pepper is a tiny berry and excellent source of vitamin K, manganese, fiber, Copper, Calcium, Chromium, and Iron. *Black pepper also magnifies the benefits of turmeric and helps increase nutrient absorption into the body.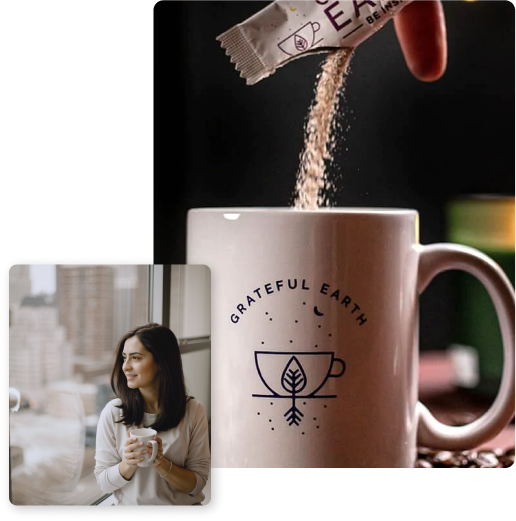 creative monsoon in a cup
Inspired by Earth's most powerful gifts, Super Brain Blend is brilliant to sip when you want to unleash your artistic abilities, creative thinking, or musical genius. It's perfect on the go; to master workflow; to support long-term brain health; and just crush at life.
It's the finest coffee cup of mind-awakening possibilities. Plus, the mushrooms and adaptogenic herbs are anti-inflammatory, antioxidant-rich, support daily immune functions, memory & BDNF levels. Caring for your mind is a no-brainer so add to your cart now!
SHOP NOW
Awaken your senses
PREMIUM COFFEE BEANS
Made of 100% premium blend of Arabica & Robusta beans.
DELICIOUS FLAVOR: PREMIUM COFFEE BEANS
Tastes like a slow drip coffee with notes of coconut and cinnamon.
POWERFUL ADAPTOGENS
6 of the most powerful brain healthy ingredients from the earth.
SAVE TIME
No wait, no coffee shop lines, and no machines.
REVOLUTIONARY METHOD
We carefully choose premium quality high-grade beans and freeze dry them to perfectly preserve the aroma and flavors.
MUST HAVE
Great addition for work, camping, travel, and sleepovers. Every serious backpacker should add this to their kit.
CONVENIENT
Lightweight and easy to carry single serve instant espresso coffee powder stick's perfect for today's on-the go lifestyle. Enjoy them anytime, anywhere in an instant.
EVERYTHING YOU NEED
It's a 3-IN-1 instant coffee with non-dairy coconut creamer and brown sugar. No need to carry any additional sugar packets or creamer.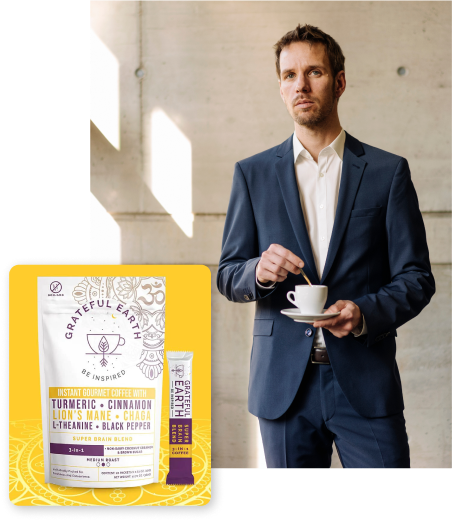 ALL YOU DO IS WIN
WHAT YOU GET: 1 bag includes 20 individual instant espresso coffee powder sticks. Micro ground to ensure consistency. Freshly roasted and packed on the same day.
EASY TO ENJOY: Just tear open a stick of Super Brain Blend, add 6 fl oz of hot water, stir, and love. No coffee machine or grinder needed.
SUSTAINABILITY PACKED: Fresh ingredients with a 12-month shelf life and recyclable packaging.
SATISFACTION GUARANTEE: Indulge your senses with our coffee aroma and enjoy every sip or your money back.
SHOP NOW
WHAT MAKES GRATEFUL EARTH DIFFERENT?
| | | | | | | |
| --- | --- | --- | --- | --- | --- | --- |
| | 100% Premium Sourced Coffee | 6 Brain-Healthy Nootropics | Fruiting Body Mushrooms | Rich & Full Coffee Flavor | Microground Gourmet Coffee | No Crash, Jitters or Anxiety |
| | | | | | | |
| | | | | | | |
| | | | | | | |
| | | | | | | |
Q & A
Great question!
1. We're the best-tasting functional coffee on the planet. (actually though)
2. We're the only brain-health focused coffee.
3. We pack 6 all-natural nootropics: turmeric, cinnamon, lion's mane, chaga, l-theanine, and black pepper. These ingredients have been shown to support focus, concentration, relaxation, steady energy levels, immune system, and daily wellness.
4. We're not just another mushroom coffee that tastes bland, we give your the whole coffee experience while sneaking all the benefits of mushrooms in to your daily ritual
5. No jitter, no crash, no anxiety.
6. We're easy to digest.
7. We focused on creating a full coffee flavorful experience.
8. We're fast and easy to make on the go.
9. We're made with love & intention.
"Grateful Earth makes the best-tasting functional coffee, mushroom coffee, and instant coffee on the market. We use gourmet beans carefully sourced from the best coffee growing regions. We also use microground coffee powder for a full coffee experience.
It tastes as good as a pour-over but the aroma is way better.
3-in-1 is a medium roast. It tastes like a french roast. It's light, palatable, very smooth and drinkable. If you like add creamer and sweetener to your coffee this is for you. The coconut creamer and raw brown sugar add a creamy sweetness to it. You may taste a hint of cinnamon and the flavor will be rich with coffee goodness. Some say it tastes like coffee ice cream. (You cannot taste the black pepper).
Espresso/black coffee is a dark roast. It's strong, powerful and can be pungent. If you drink your coffee black, strong and healthy, this one's for you. Upon the first pour, you'll see the espresso froth. The aroma will be full. The mushrooms give it an earthy taste without sacrificing the robust flavor of coffee. The turmeric and cinnamon may give it a pinch of an hernbally taste. Overall, it's a complex full body that's bursting with dark roast flavor."
"Even though we keep our caffeine content on the low side, our Super Brain Blend was formulated to keep the brain, mind, and soul energized and focused.
Our 3-in-1 has 50 mg of caffeine per cup and our espresso/ black coffee has 75 mg per cup."
Yes. We're Vegan, Paleo Friendly, Non-GMO, Lab Tested, Eco-friendly, All-natural, and made with Love.
We do not offer free samples, but encourage people to sign up for our Grateful Rewards Program as there as many prizes and perks that you can get!
"Each cup includes:
+250mg of Lion's Mane
+250mg of Chaga
+50mg of L-Theanine
+32mg of Turmeric
+10mg of Black Pepper
+5mg of Cinnamon"